About California Love Pie Company
Los Angeles, CA and Atlanta, GA love Cali Love pies! Baking in both states helped spread the word and sales grew! These sales created a unique niche for homemade baked pies. The California Love Pie (CLP) Company reached a critical point in the development process in 1995. It was at this point that passion intersected with drive and the love grew. Shortly after, the company spread into a full online bakery.
In 2010, Amili's wife, Brandi, joined the team. This collaboration enhanced the growth of CLP. Her business acumen and customer service background opened doors to expanding the business on a broader scale. Their efforts, commitment to high quality, and innovative product development are the foundation for the success of California Love Pies online bakery.
Support Today
California Love Pies are available in a variety of flavors! These pies are guaranteed to enhance any occasion, put a smile on your face, and warm your heart. You will definitely understand once you've had one! Family and corporate events can be accommodated. Book today!
Please take time to check out our Shop!
About Amili Williams
In his early adult years, Amili Williams worked alongside his father in their family restaurant where they lived in Los Angeles. Something happened to him during those pivotal years. His creative genes sparked and he was inspired to bake. This inspiration brought on the creativity of combining a sweet potato pie with a delicious cheesecake recipe.
Years later, while attending college away from home in Atlanta, Georgia, he shared his creation with friends during the holidays. The phenomenal reactions and the overwhelming demand for more began the dream to pursue his passion. Amili has been spreading Cali love ever since with his sweet treats!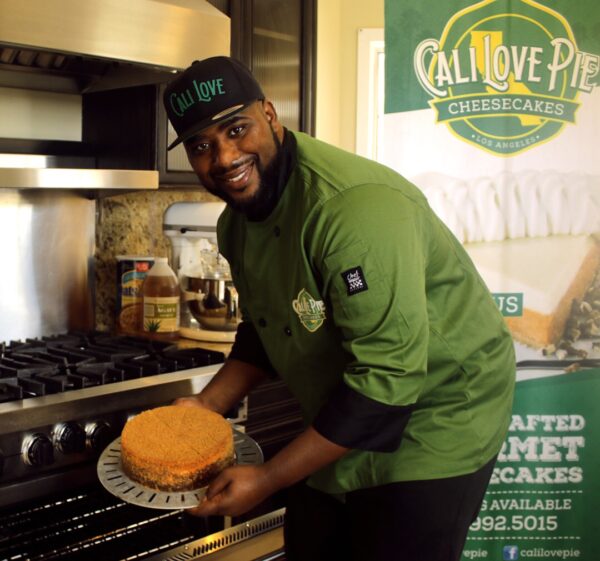 Call us today at 323.992.5015 or Email us at 

[email protected]
Order a pie for your next event or special occasion.